Meike Prime 50mm T2.1 Cine Lens for Full Frame such as Canon C700 C500II,Sony VENICE,Sony FX3 FX6,FX9,Z Cam E2-F6,Alexa LF,Mavo LF, Mavo Edge 8K
I am here to announce the first cine lens of Meike in its new FF-Prime Cine Series:the Meike 50mm T2.1. With a image circle of 45mm,this lens compatible with Full Frame cameras,and it will be available in various lens mounts,including PL/EF/RF/E/L/Z.
The complete set includes
16mmT2.6,24mmT2.1,35mmT2.1,50mmT2.1,85mmT2.1,105mmT2.1,135mmT2.1.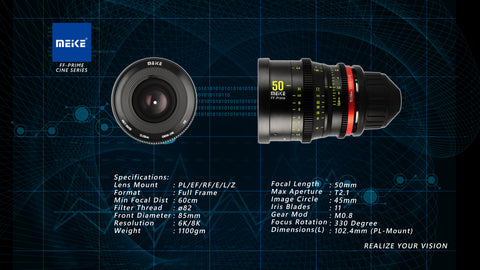 This lens is one of Meike's cine lens in new FF-Prime Cine Series.It has industry-standard 0.8mm pitch gears on the focus and aperture ring.The lens design of the Meike 50mm T2.1 FF-Prime consists of 12 elements in 8 groups.The aperture mechanism consists of 11 aperture blades. The minimum focus distance is 60cm.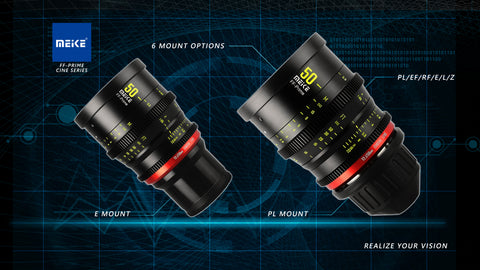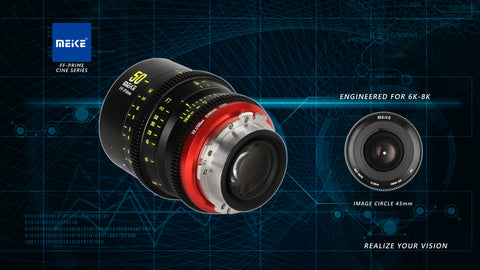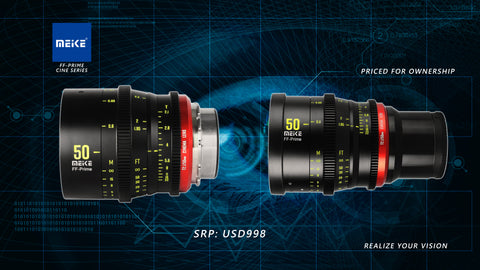 Compatible:
Canon C700 

C500II

Sony VENICE

Alexa LF

Z Cam E2-F6

Mavo LF

Sony FX3 FX6,FX9

All 

full-frame Sony, Panasonic. Canon, Sigma, Leica mirrorless

All Super 35/ APS-C sensors
Specifications
| | |
| --- | --- |
| Lens Mount: |  PL/EF/RF/E/L/Z     |
| Min Focal Dist: | 60cm |
| Filter Thread: | ø82 |
| Outer Diameter: | 85mm |
| Structure: | 12 Elements in 8 Groups     |
| Focal Length: | 50mm |
| Aperture Range: | T2.1-T22 |
| Iris Blades: | 11     |
| Gear Mod: | M0.8     |
| Focus Rotation: | 330 Degree     |
| Dimensions (Ø x L): PL: | ø89.6 × 102.5mm |
|                               EF(Canon):     | ø89.6 ×110.5mm |
|                               RF(Canon):     | ø89.6 ×134.5mm |
|                               E(Sony):         | ø89.6 ×136.5mm |
|                               L(Panasonic): | ø89.6 × 134.5mm |
| | |
| Weight: | 1099-1172g |
on FF cameras:    
on APS-C camera:

Diagonal:46.4°                                     
Horizontal: 39.1°                      
Vertical: 26.5°

Diagonal:29.6°                                      Horizontal: 24.7°                      
Vertical: 16.6°