Meike Mini Prime T2.2 Cine lens for M43/MFT Mount Cameras Olympus/Panasonic Lumix Cameras and BMPCC 4K BMPPCC camera 4K Zcam E2 GH5 etc. (Single Lens)
Original price
$39.99
-
Original price
$479.99
M86-114mm ring adapter matte box for 8mm T2.9 lens

77mm-95mm matte box ring adapter for 10mm T2.2

Cine lens Option

8mm T2.9 M43,
10mm T2.2 M43,
12mm T2.2 M43,
16mm T2.2 M43,
25mm T2.2 M43,
35mm T2.2 M43,
50mm T2.2 M43,
65mm T2.2 M43,
85mm T2.2 M43,
Compatibility
Olympus mirrorless camera E-P1 E-PL1 E-P2 E-PL2 E-P3 E-PL3 E-PL5 E-PM1 E-PM2 OM-D E-M5 E-P5 OM-D E-M1 OMD-EM10 and other Olympus Micro 4/3 cameras

Panasonic Lumix G9 G1 G2 G3 G5 GF1 GF2 GF3 GF5 GF6 GF7 GH1 GH2 GH3 GH5 G6 GX1 GX7 GX8 GH4 GM1 GM5 -D E-M5 E-P5 OM-D E-M1 OMD-EM10 and other Panasonic Lumix Micro M4/3 MFT cameras

BMPCC 4K Zcam E2 GH5 GH6 OM-1,Z CAM E1 E2 E2C etc.



IMAGE:
- Very, very sharp

- Little to no color cast, great contrast

- Smooth, circular bokeh

- Little to no focus breathing

- Focus marks accurate, as close as 10"

- Very little flaring or blooming
Lens Mount:
 M43

Min Focal Dist:
25cm
Filter Thread:
ø86
Focal Length: 
8mm
Aperture Range:
T2.9-T22

Structure:

12 Elements in 7 Groups

Iris Blades:
10   

Focus Rotation:
270 Degree    

Dimensions (Ø x L): M43:

 



ø80 × 81.7mm

Weight:
540g
 FOV: on M43 camera                               

diagonal 108.6°
horizontal 96°
vertical 80°
Multi-layer coating
With higher transmittance and effective suppression of stray light, the lens is compact and robust yet light enough to smoothly capture high quality images.
Metal Bayonet
Stable and reliable

All glass + metal structure design, good high and low temperature resistance
Bold Gear and Easy Aperture Control
The bold gears are provided for cinematographers/photographers to adjust focus and aperture ring precisely and optimize the depth of view and bokeh effect.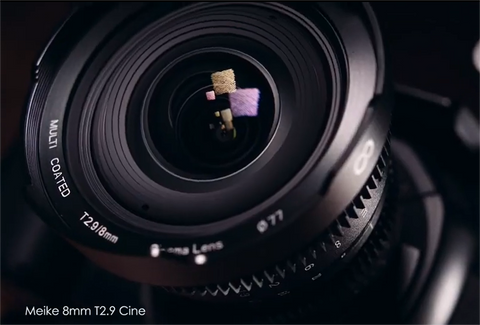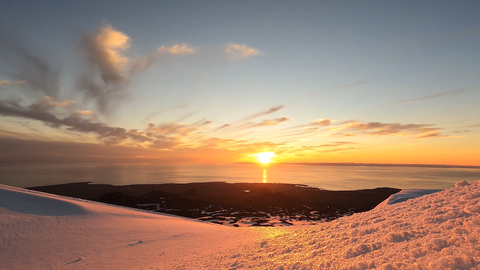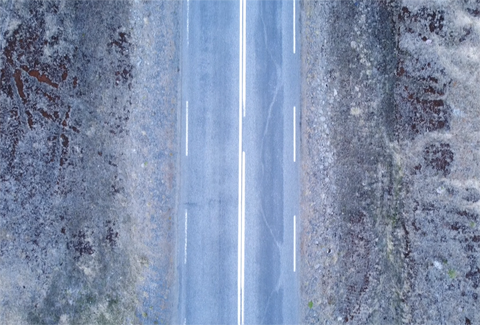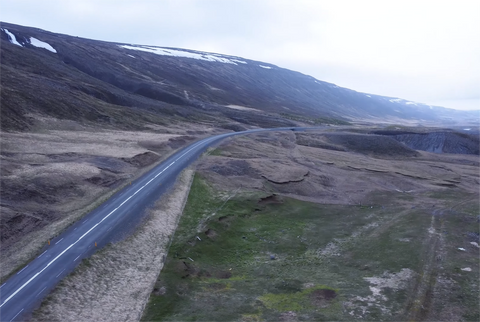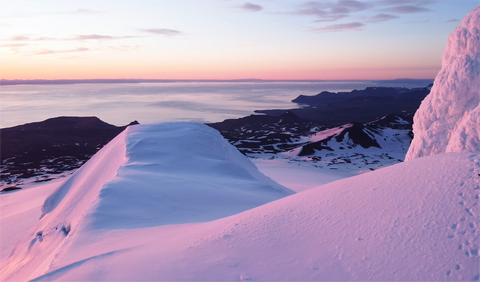 Lens Mount:
 M43/E/X/RF

Min Focal Dist:
30cm
Filter Thread:
ø77
Focal Length: 
10mm
Aperture Range:
T2.2-T22

Structure:

15 Elements in 12 Groups

Iris Blades:
10   

Focus Rotation:
270 Degree    

Dimensions (Ø x L): M43:

 



ø80 × 81.7mm

Weight:
600g
 FOV: on M43  camera                     

on APS-C camera

diagonal 91°

horizontal 78°

vertical 63°

diagonal 107°

horizontal 96°

vertical 72°

Multi-layered
Delivery image with smooth, circular bokeh

Designed for video making
Metal bayonet
Metal bayonet made of lithium alloy

Stable and reliable


Sample pictures by Darryl Carey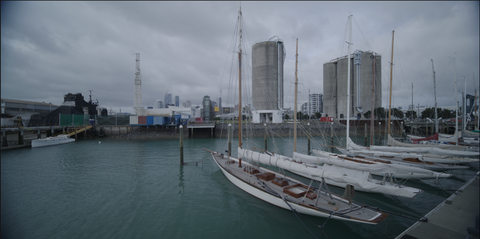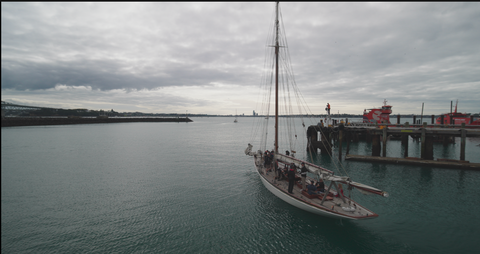 Lens Mount:
M43/E/X/RF

Min Focal Dist:
22cm
Filter Thread:
ø77
Focal Length: 
12mm
Aperture Range:
T2.2-T22

Structure:

10 Elements in 15 Groups

Iris Blades:
10   

Focus Rotation:
270 Degree    

Dimensions (Ø x L): M43:

 



ø80 × 81.7mm

Weight:
600g
 FOV:  on M43 camera

on APS-C camera

diagonal 86°

horizontal 73.2°

vertical 58°

None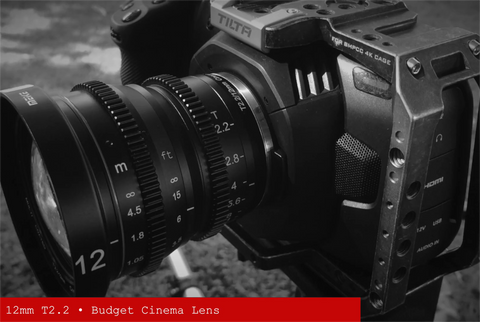 Metal bayonet
Metal bayonet made of lithium alloy

Stable and reliable
Bold gear
Designed for video making

Easy to follow-focus
Multi-layered
Delivery image withs smooth, circular bokeh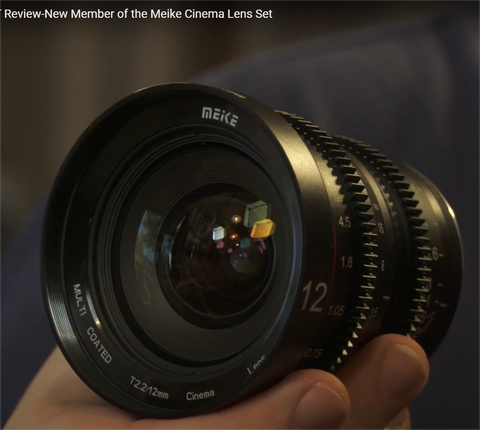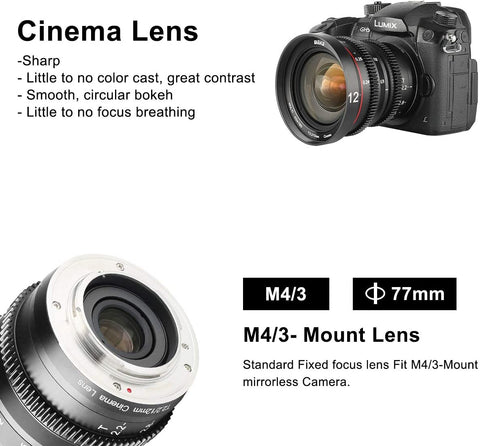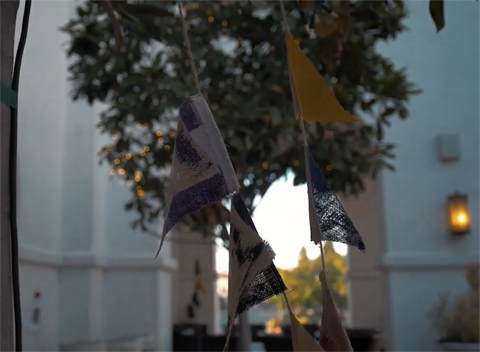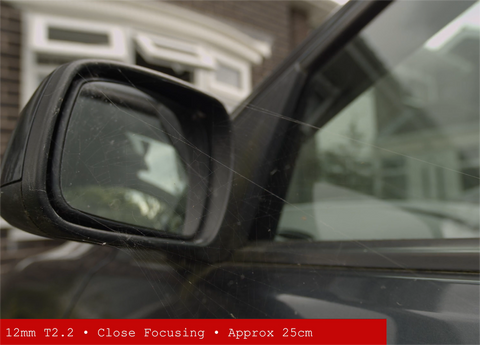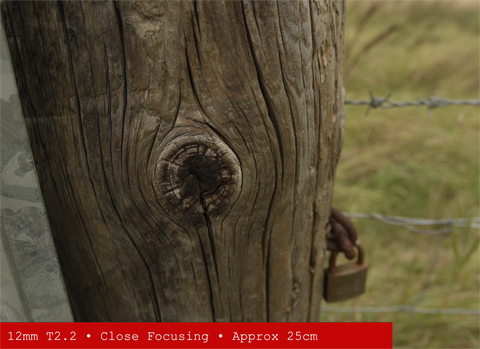 Lens Mount:

M43/E/X/RF

Min Focal Dist:
20cm
Filter Thread:
ø77
Focal Length: 
16mm
Aperture Range:
T2.2-T22

Structure:

13 Elements in 10 Groups

Iris Blades:
10   

Focus Rotation:
270 Degree    

Dimensions (Ø x L): M43:

 



ø80 × 85.0mm

Weight:
560g
 FOV: on M43 camera

on APS-C camera

diagonal 73°

horizontal 61°

vertical 47°

None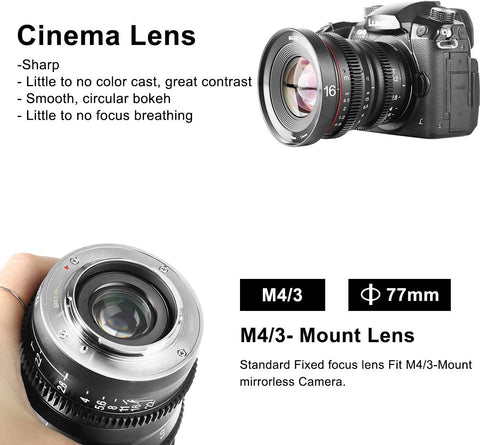 Multi-layered
Delivery image with a smooth, circular bokeh
Metal bayonet
Metal bayonet made of Aluminum alloy
Bold gear
Designed for video making

Easy to follow-focus


Lens Mount:
M43/E/X/RF

Min Focal Dist:
25cm
Filter Thread:
ø77
Focal Length: 
25mm
Aperture Range:
T2.2-T22

Structure:

10 Elements in 8 Groups

Iris Blades:
10   

Focus Rotation:
270 Degree    

Dimensions (Ø x L): M43:

 



ø80 × 86.0mm

Weight:
515g
 FOV: on M43 camera

on APS-C camera

diagonal 49.7°

horizontal 40.6°

vertical 31°

diagonal 59°

horizontal 51°

vertical 35°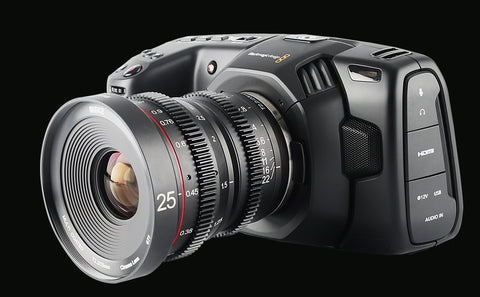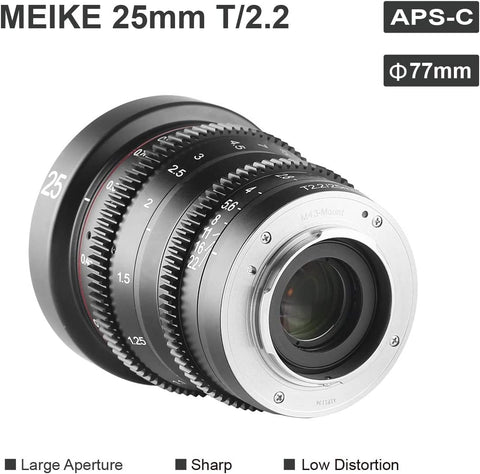 Lens Mount:
M43/E/X/RF

Min Focal Dist:
51cm
Filter Thread:
ø77
Focal Length: 
35mm
Aperture Range:
T2.2-T22

Structure:

10 Elements in 8 Groups

Iris Blades:
10   

Focus Rotation:
270 Degree    

Dimensions (Ø x L): M43:

 



ø80 × 93.8mm

Weight:
638g
 FOV: on M43 camera

on APS-C camera

diagonal 37°

horizontal 29.7°

vertical 22.4°

diagonal 44.4°

horizontal 36°

vertical 27.2°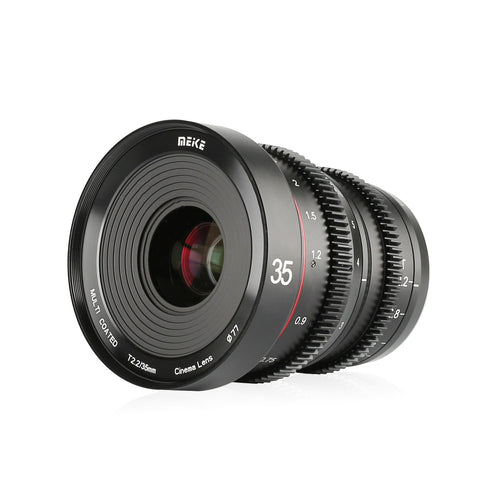 Lens Mount:
M43/E/X/RF

Min Focal Dist:
60cm
Filter Thread:
ø77
Focal Length: 
50mm
Aperture Range:
T2.2-T22

Structure:

9 Elements in 7 Groups

Iris Blades:
10   

Focus Rotation:
270 Degree    

Dimensions (Ø x L): M43:

 



ø80 × 91.4mm

Weight:
623g
 FOV: on M43 camera

on APS-C camera

diagonal 24.8°

horizontal 19.8°

vertical 15°

diagonal 32°

horizontal 26.8°

vertical 17.9°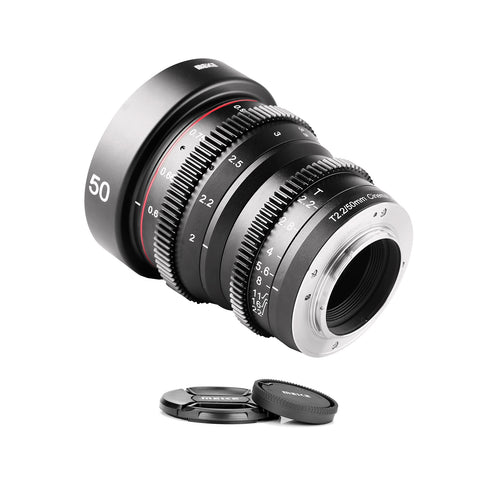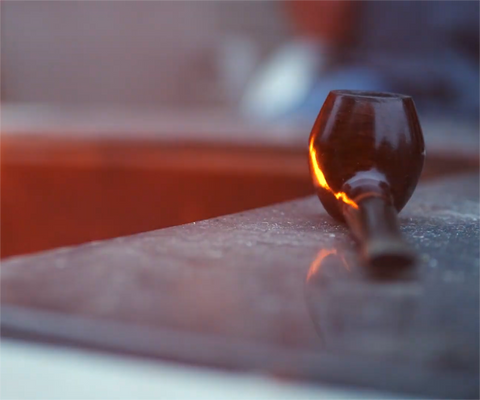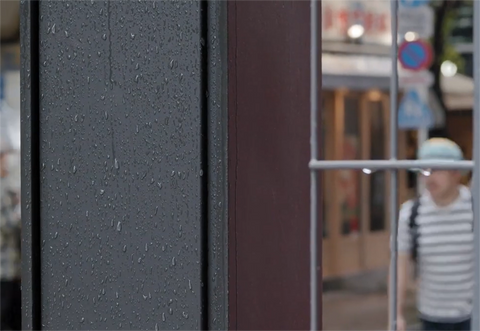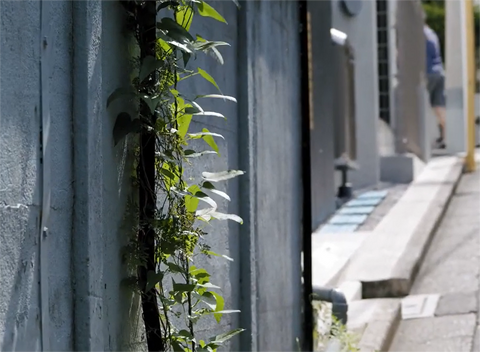 Lens Mount:
M43/E/X/RF

Min Focal Dist:
68cm
Filter Thread:
ø77
Focal Length: 
65mm
Aperture Range:
T2.2-T22

Structure:

10 Elements in 7 Groups

Iris Blades:
10   

Focus Rotation:
270 Degree    

Dimensions (Ø x L): M43:

 



ø80 × 84.6mm

Weight:
545g
 FOV: on M43 camera

on APS-C camera

diagonal 20°

horizontal 16.1°

vertical 21.1°

diagonal 24.4°

horizontal 20.6°

vertical 13.9°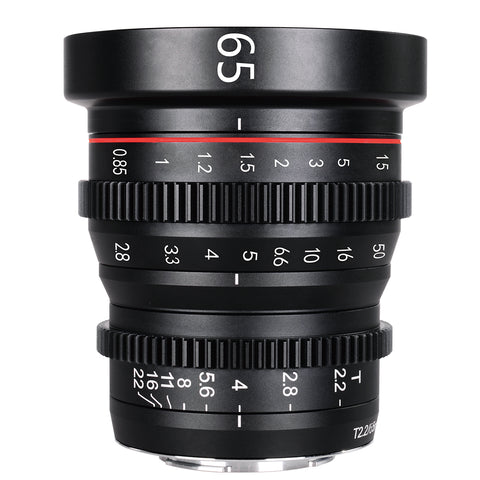 Lens Mount:
M43/E/X/RF

Min Focal Dist:
90cm
Filter Thread:
ø77
Focal Length: 
85mm
Aperture Range:
T2.2-T22

Structure:

9 Elements in 7 Groups

Iris Blades:
10   

Focus Rotation:
270 Degree    

Dimensions (Ø x L): M43:

 



ø80 × 89.7mm

Weight:
640g
 FOV: on M43 camera

on APS-C camera

diagonal 15.4°

horizontal 12.4°

vertical 9.3°

diagonal 19°

horizontal 15.8°

vertical 10.6°