Meike Prime 12mm T2.5 Cine Lens for Super 35 Frame Cinema Camera System, such as RED Komodo, BMPCC 6K, BMPCC 6K Pro,Z CAM S6 and Canon C70 etc.
Original price
$699.99
-
Original price
$699.99
The complete set includes:
12mmT2.5,18mmT2.1,25mmT2.1,35mmT2.1,50mmT2.1,75mmT2.1,100mmT2.1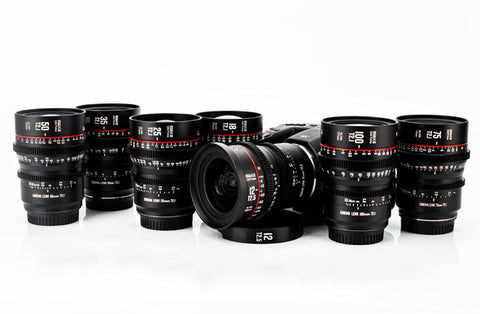 Compatibility( EF mount):
-  Canon EOS C100 Mark II, C200, C300 Mark II, C70

-  Z CAM: E2-S6 6K EF-Mount, E2-F6 EF, E2-F8 EF

-  BMPCC 6K, BMPCC 6K Pro, Blackmagic URSA Mini 4K EF

-  Panasonic AU-EVA1MC, VARICAM LT(AU-V35LT1MC)

-  RED KOMODO 6K EF

 Compatibility( PL mount):
-  Canon EOS C700 PL, C700 PL GS

-  Z CAM: E2-S6 6K PL, E2-F6 PL, E2-F8 PL

-  ARRI Amira, Alexa Mini , Alexa SXT W.

-  Panasonic VariCam Pure, VariCam 35(AU-V35C1RMC)

-  Kinefinity Mavo 6k, Terra 4k, Terra 6k

-  RED KOMODO 6K PL

Manual focus: Enable your camera 'release without lens' to let the lens work with your camera.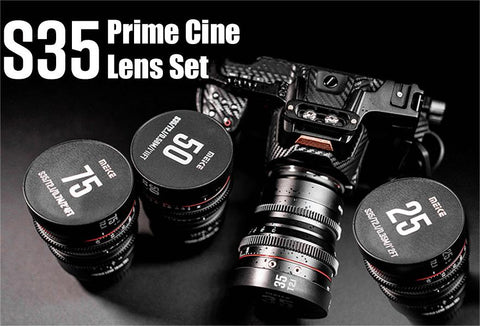 | | |
| --- | --- |
| Lens Mount: |  PL/EF |
| Min Focal Dist: | 20cm |
| Image circle: | 28.2mm |
| Filter Thread: | ø86 |
| Outer Diameter | 90mm |
| Structure: | 17 Elements in 10 Groups     |
| Focal Length: | 12mm |
| Aperture Range: | T2.5-T22 |
| Iris Blades: | 10 |
| Gear Mod:  | M0.8 |
| Focus Rotation:  | 270 Degree |
Dimensions (Ø x L): 


PL:

 

                          
φ85.5 ×103mm
EF:    
φ85.5 × 111mm
Weight:


PL:
EF:
880g
880g
 FOV:
Diagonal: 104.5 °                                         
Horizontal: 97.1°                       
Vertical: 61.1 °c
All-metal lens body design:
Multi-layer coating
With higher transmittance and effective suppression of stray light, the lens is compact and robust yet light enough to smoothly capture high quality images.
Bold Gear and Easy Aperture Control
The bold gears are provided for cinematographers/photographers to adjust focus and aperture ring precisely and optimize the depth of view and bokeh effect.
Both the focus ring and the aperture ring are textured design, which is convenient for cinematographers to hold.