Meike Mini Prime T2.2 Cine lens for RF Mount Canon EOS R R5 R6 RP R7 R1 C70 ,X-A1,RED Komodo Cameras etc.(Single Lens)
Original price
$39.99
-
Original price
$599.99
Note: The color of X, E, mounts is different from the RF mount.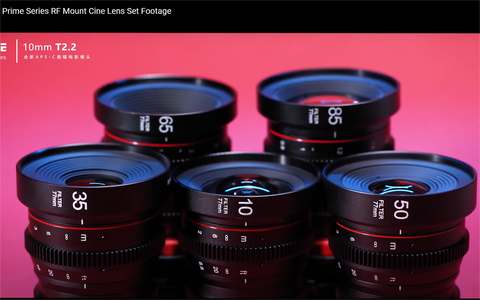 Cine Lens Kit:
MK-10mm T2.2,
MK-25mm T2.2,

MK-35mm T2.2,
MK-50mm T2.2,
MK-65mm T2.2,
MK-85mm T2.2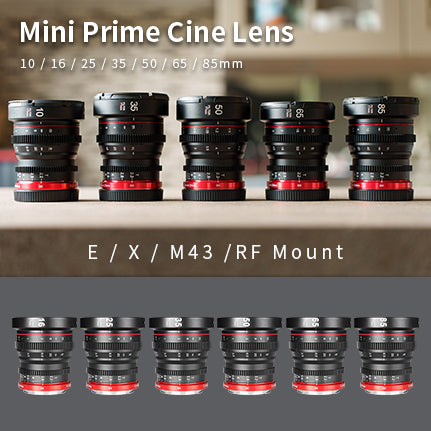 Compatibility(RF Mount):
Compatible with Canon C70 and RED Komodo Cameras

Compatible with Canon EOS R R5 R6 RP R7 R10 (Switch the camera to APS-C mode)
X-A1 etc.
IMAGE:
    - Very, very sharp
    - Little to no color cast, great contrast
    - Smooth, circular bokeh
    - Little to no focus breathing
    - Focus marks accurate, as close as 10"
    - Very little flaring or blooming
Lens Mount:
 M43/E/X/RF

Min Focal Dist:
30cm
Filter Thread:
ø77
Focal Length: 
10mm
Aperture Range:
T2.2-T22

Structure:

15 Elements in 12 Groups

Iris Blades:
10   

Focus Rotation:
270 Degree    

Dimensions (Ø x L): M43:

 



ø80 × 81.7mm

Weight:
600g
 FOV: on M43  camera                     

on APS-C camera

diagonal 91°

horizontal 78°

vertical 63°

diagonal 107°

horizontal 96°

vertical 72°

BUILD:
- All metal

- Nice smooth focus and aperture control

- Very long (270º) focus throw, perfect for accurately pulling focus

- Focus distance and aperture marks on both sides of lens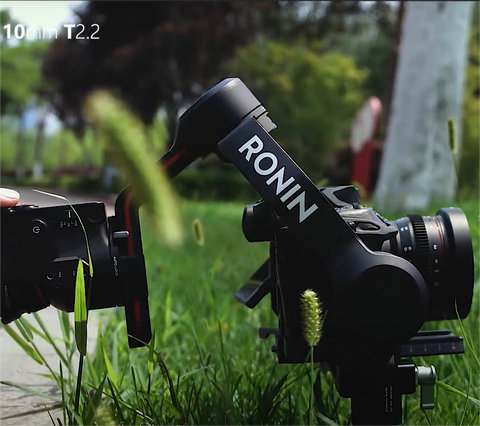 Wide aperture of T2.2, suitable for landscape and portrait shooting.
Can shoot the background like a creamy blur effect. The requirements for distortion and vignetting are extremely demanding, the color of the film is rich and delicate, full of cinematic feeling.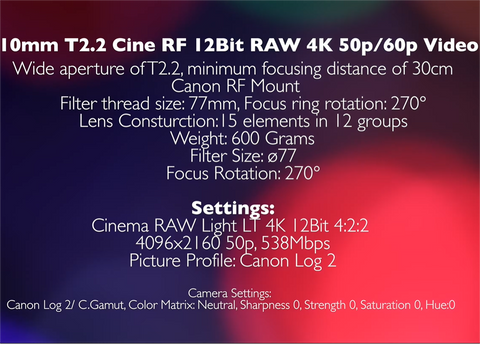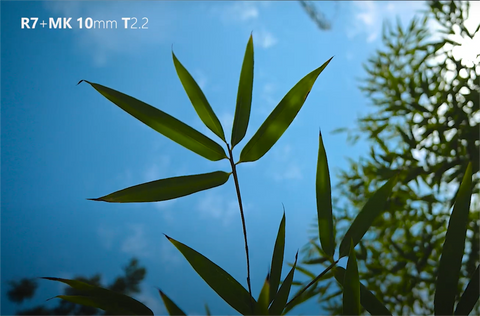 Bring approximately zero distortion optical design and visual effects, pushing the performance of the lens to its peak and creating higher image quality for photographers/cinematographers.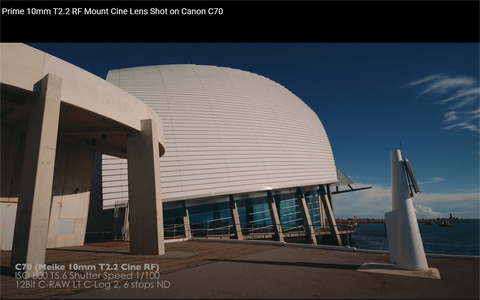 Lens Mount:
M43/E/X/RF

Min Focal Dist:
25cm
Filter Thread:
ø77
Focal Length: 
25mm
Aperture Range:
T2.2-T22

Structure:

10 Elements in 8 Groups

Iris Blades:
10   

Focus Rotation:
270 Degree    

Dimensions (Ø x L): M43:

 



ø80 × 86.0mm

Weight:
515g
 FOV: on M43 camera

on APS-C camera

diagonal 49.7°

horizontal 40.6°

vertical 31°

diagonal 59°

horizontal 51°

vertical 35°
 
 Multi-layered and Metal bayonet
Delivery image with smooth, circular bokeh
Designed for video making
Metal bayonet made of lithium alloy
Stable and reliable


Lens Mount:
M43/E/X/RF

Min Focal Dist:
51cm
Filter Thread:
ø77
Focal Length: 
35mm
Aperture Range:
T2.2-T22

Structure:

10 Elements in 8 Groups

Iris Blades:
10   

Focus Rotation:
270 Degree    

Dimensions (Ø x L): M43:

 



ø80 × 93.8mm

Weight:
638g
 FOV: on M43 camera

on APS-C camera

diagonal 37°

horizontal 29.7°

vertical 22.4°

diagonal 44.4°

horizontal 36°

vertical 27.2°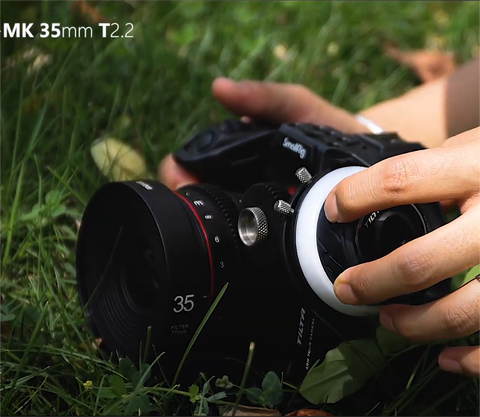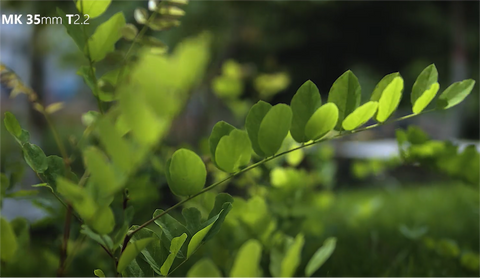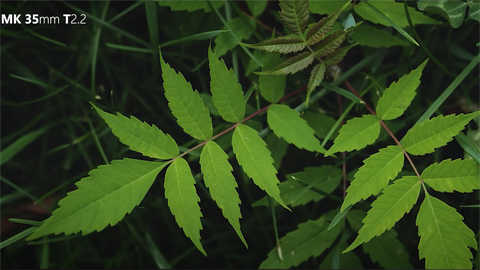 Lens Mount:
M43/E/X/RF

Min Focal Dist:
60cm
Filter Thread:
ø77
Focal Length: 
50mm
Aperture Range:
T2.2-T22

Structure:

9 Elements in 7 Groups

Iris Blades:
10   

Focus Rotation:
270 Degree    

Dimensions (Ø x L): M43:

 



ø80 × 91.4mm

Weight:
623g
 FOV: on M43 camera

on APS-C camera

diagonal 24.8°

horizontal 19.8°

vertical 15°

diagonal 32°

horizontal 26.8°

vertical 17.9°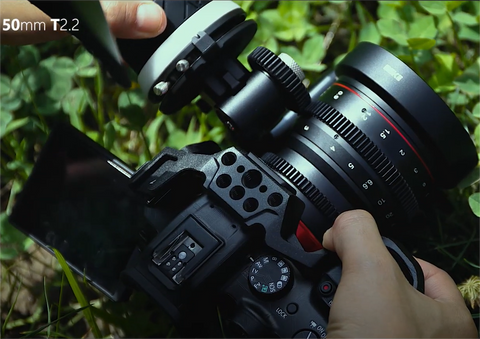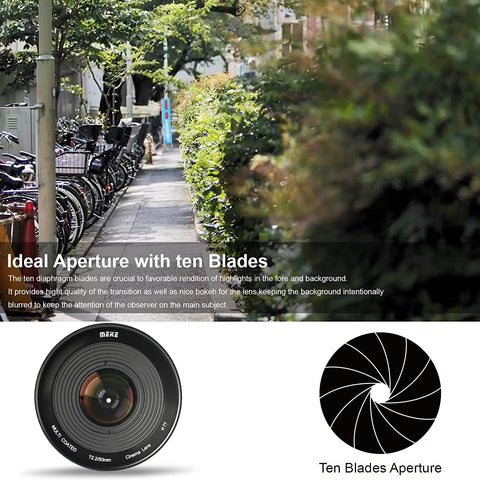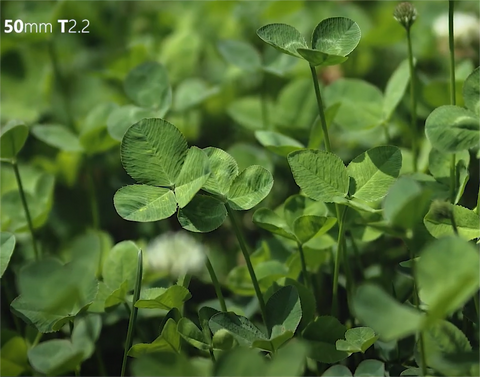 Lens Mount:
M43/E/X/RF

Min Focal Dist:
68cm
Filter Thread:
ø77
Focal Length: 
65mm
Aperture Range:
T2.2-T22

Structure:

10 Elements in 7 Groups

Iris Blades:
10   

Focus Rotation:
270 Degree    

Dimensions (Ø x L): M43:

 



ø80 × 84.6mm

Weight:
545g
 FOV: on M43 camera

on APS-C camera

diagonal 20°

horizontal 16.1°

vertical 21.1°

diagonal 24.4°

horizontal 20.6°

vertical 13.9°


Lens Mount:
M43/E/X/RF

Min Focal Dist:
90cm
Filter Thread:
ø77
Focal Length: 
85mm
Aperture Range:
T2.2-T22

Structure:

9 Elements in 7 Groups

Iris Blades:
10   

Focus Rotation:
270 Degree    

Dimensions (Ø x L): M43:

 



ø80 × 89.7mm

Weight:
640g
 FOV: on M43 camera

on APS-C camera

diagonal 15.4°

horizontal 12.4°

vertical 9.3°

diagonal 19°

horizontal 15.8°

vertical 10.6°